Auditing your website isn't optional. It's a necessity.
If you want to drive organic traffic to your site and improve your search rankings, you need to conduct website audits regularly. A site audit is truly the first step in any effective SEO campaign.
search users are motivated and targeted. If you can attract them, you'll see a leap in your conversions.
SEO is the lifeblood of your business listing, as far as organic traffic is concerned. If your web pages are not doing well and search users are struggling to find your search results, you'll likely fail in SEO.
Ranking in search is the easiest way to grow your online business listing. Google's research on search behavior found that "50% of consumers who conducted a search on their smartphone visited a store within a day, and 34% who searched on computer/tablet did the same."
Even if you decide to hire an SEO expert or agency to manage your site, it's still important to determine the quality of the service that you'll be getting through an efficient audit process.
An effective SEO audit helps you uncover what's wrong with a site or page and what areas you need to tackle first.
But, it's vital to start from where you are. You can begin and determine how to develop an effective optimization campaign that'll suit the larger, global audience.
Most people think that doing an SEO audit on their business listing in order to improve its search performance is difficult.
If you don't know what to do, it can be a daunting task. But fear not – this article will walk you through the whole SEO audit process! 
Before You Begin Your SEO Audit
Before you get started with your SEO audit, make sure that you…
Check your business name reach and NAP (name, address and phone number) visibility.
Study the city and geographical location of your business.
Take a deep dive into your business listing, website, or blog.
Extract useful data through competitor analysis.
Step #1: Conduct an extensive keyword analysis
Relying solely on search engine marketing (SEM) to drive leads and customers can certainly work. However, alongside search engine optimization, it might take some time.
Marketers are leveraging search engines to reach their audience. According to Regalix, "96% of marketers use search engine marketing to provide informational and educational content."
Keywords determine the strength of your site and web pages. No matter what advanced strategies you use in your search engine optimization efforts, keyword analysis should be given top priority.
If you don't know what keywords you're currently ranking for and which ones are underperforming, you'll still fail, even if you build authoritative inbound links.
Although Google no longer uses keywords as a primary ranking factor, organic ranking decisions are still made based on thematic keywords.
To conduct a keyword analysis and discover which keywords are bringing organic searches and visitors to your small business site, follow this simple process:
i). Go to SEMrush.com. On the homepage, input your site URL (e.g., nutritionsecrets.com). Then click the "search" button on the right:

ii). Analyze organic keywords. You'll then see your organic keyword performance results. Pay attention to the organic keywords and their positions (where the keywords are currently ranked).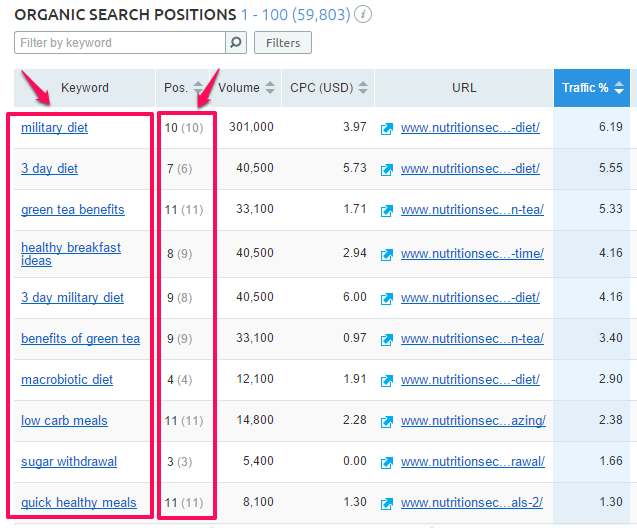 iii). Check the top organic results pages. You want to know which other competitors are ranking ahead of you. Simply input one of your keywords into the search engine like this: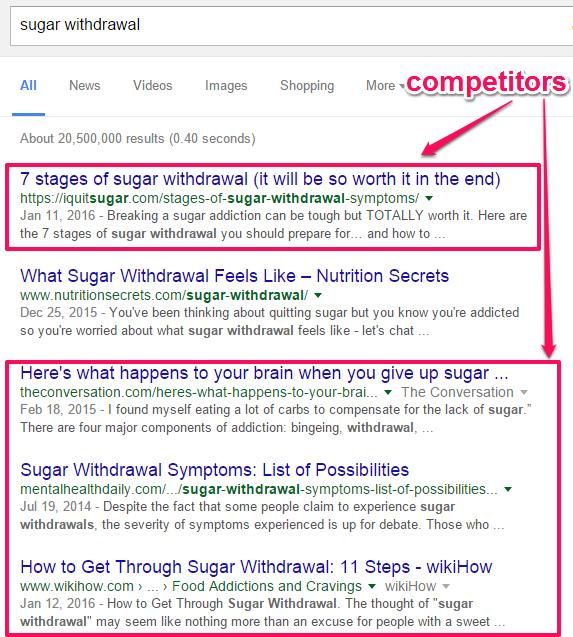 iv).   Dig deeper into searches. Now, let's do it in the context of SEO keyword search.
The purpose of digging deeper into SEO is to find out if there are businesses competing for your keywords. You're interested in both organic results and paid search (AdWords).
To be effective at this, let's assume that you're a "social media consultant in Houston." All you have to do is input that keyword phrase into the search engine and you'll see your SEO competitors: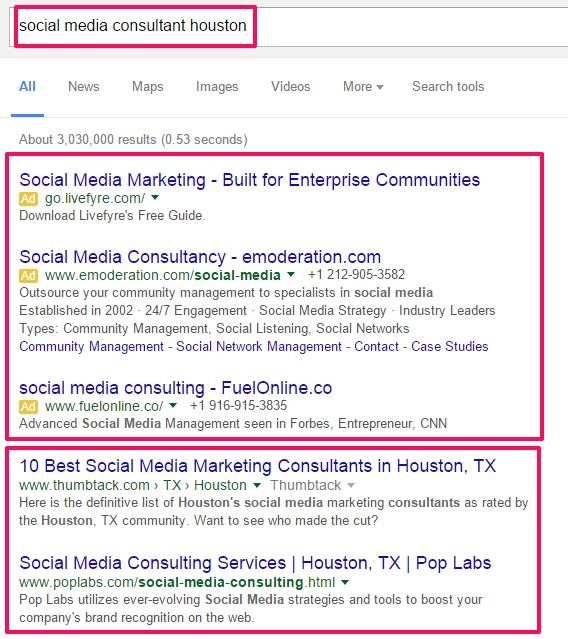 Is there a listing necessity for your business? If you find competitors running Google ads consistently, it's a sign that consumers are searching for the keywords and will be more likely to buy a product, opt-in to an email list and read informative content.
That said, it's ideal to include the keywords that are generating organic searches to your pages.
Make sure the title tag, meta tag and meta description of your website has relevant and geo-modified keywords. Do the title tags, meta tags and meta descriptions on your site contain the right keywords – i.e., "your keyword + state" or " seo expert New Jersey"?
There are two ways to check this. They include:
Manual check: You can manually look at the source code of your site. All you have to do is right-click on your page and select "view source code."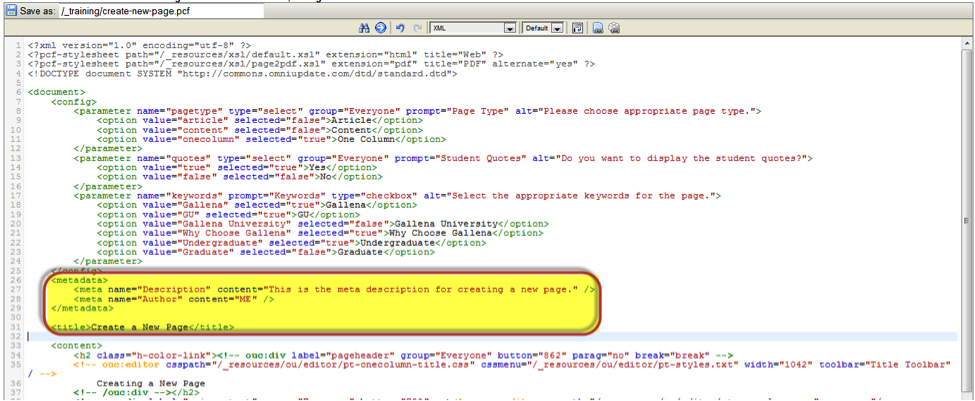 Use a tool: You can also use the Screaming Frog SEO spider tool to check your meta data.
To be on the safe side, when analyzing the meta description, meta tag and title tag (metadata) of your site, make sure that the title contains fewer than 55 characters and the description contains no more than 155 characters. You can easily use this character count tool to get a quick and accurate character count.
Your title tag must be relevant and contain the keywords that you're targeting, plus the geo-modified keywords (i.e., keywords that contain the state, city or country you're located in). See examples below: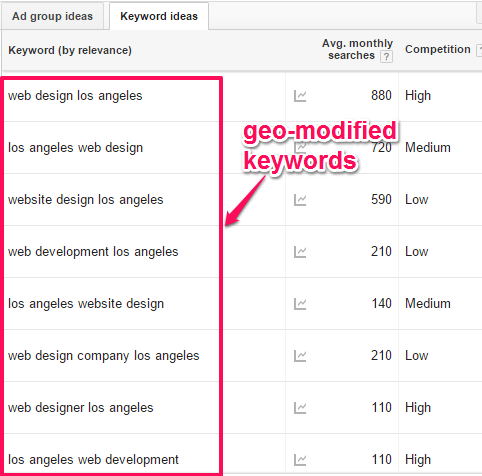 Geo-modified vs. geo-targeted keywords: Most SEOs think that these two terms mean the same thing. But that's not quite right.
Geo-modifying a keyword simply means that you are adding qualifiers such as the city, state, or country name to your primary keyword. Some examples of geo-modified search phrases are:
web developer in Minnesota
Los Angeles plumber
Vancouver construction company
make money online in India
On the other hand, geo-targeting a keyword simply means that you aim or target groups of keywords to a specific market or audience based on geography.
These keywords may or may not be modified in any form. They can still be the typical keywords aimed at a particular geographic location.
For example, you could easily geo-target the keyword phrases below to customers in the United Kingdom, or US:
social media digital agency
digital marketing services
work at home income opportunities
graphic design packages
During a SEO audit process, it's ideal to take a close look at both geo-modified and geo-targeted keyword phrases, because consumers in a particular city or state usually search for them.
For example, if I want to hire a professional graphic designer in Texas, I could use any of these search terms:
professional graphic designer service
professional graphic designer TX
best Texas graphic designers
best professional graphic designers
graphic design solutions online
Depending on what I'm looking for in a graphic designer, each of the search terms (i.e., keywords) above will make my search easier.
Remember that you can geo-target a particular keyword or group of keywords to a location that'll improve your conversion rate.
Step #2: Search business in Google and other search engines
One of the simplest things that you can do for your SEO audit is to search for your business name in Google to determine the visibility of your listing, and the effectiveness of your search engine optimization. There should be an alignment between your search results and business name.
You're basically linking your business name and characteristics with your organic search results. Most local businesses (e.g., restaurants, retail shops) generate search users to their site, but these searchers may not be interested in the small business itself, especially if it's not in their own geographic location.
Here's how this works: If I'm in Georgia and need to eat at a nearby restaurant, I wouldn't be interested in a restaurant in Texas or Iowa. What I want is a restaurant in the city where I am.
And if you own a restaurant like that, you want to make sure people like me get directed to your website, right?
So, in conducting a SEO audit, start by searching your business name in all of the search engines, but especially Google. Make sure to search for your "business name + city."
Here's a typical search result: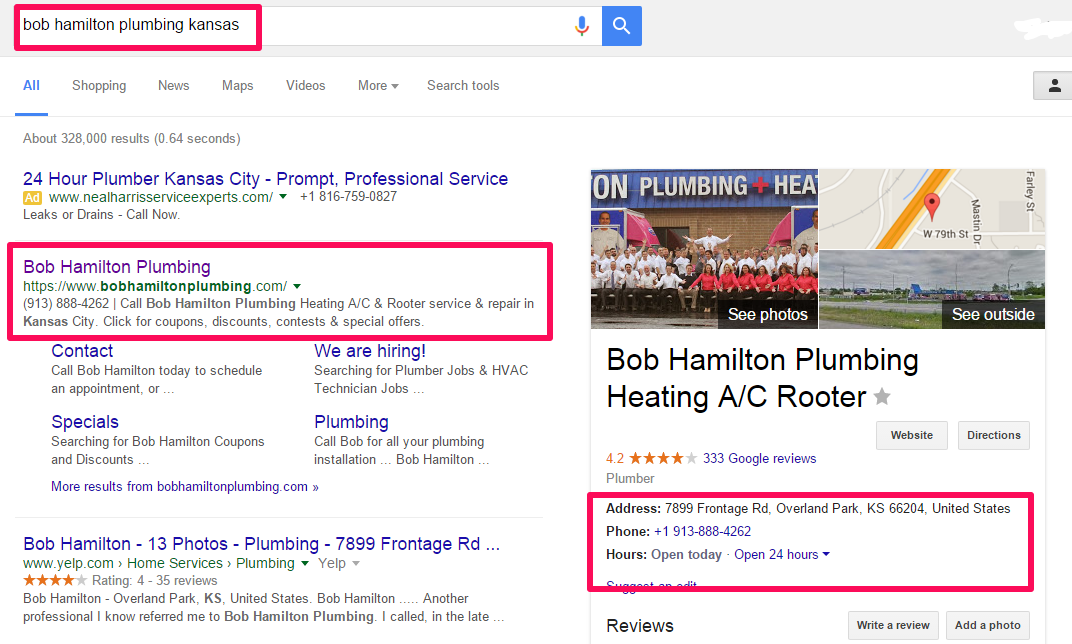 At a glance, you can see that the search result for "Bob Hamilton Plumbing Kansas" returned some listings alongside the knowledge graph.
In fact, Google recognizes and credits the business name with the website. This is bound to happen if the small business has been around for some time.
The next thing you'll need to do for your SEO audit is to check if the business name is attached to a Google+ profile. Is the Google+ page link showing up in the organic search listings?
It's vital that the Google+ page link shows up when you search for the business name, because it shows the level of reach, influence and relative prominence of the small business brand in your locality.
In the above search listings, you'll notice that the Google+ page link is not showing up. There are four core reasons why this could happen:
No Google+ business page
Google+ page not updated
Google fails to associate the website with the Google+ page
Perhaps the website has been penalized
In the example search listings below, another business, "B&L Plumbing," doesn't have a visible Google+ page, but their Facebook page is showing up. All of the available social media pages should rank when a business name is searched .
The reason is simple: Consumers should be able to reach a small business through the website, via the physical address, phone number or by any of its social media profile pages.
Making a case with branded search: Search users usually look for a particular business using branded keywords (e.g., Brian Dean SEO). If you want your business to be visible when branded searches are available, you need to claim your listings in Google My Business.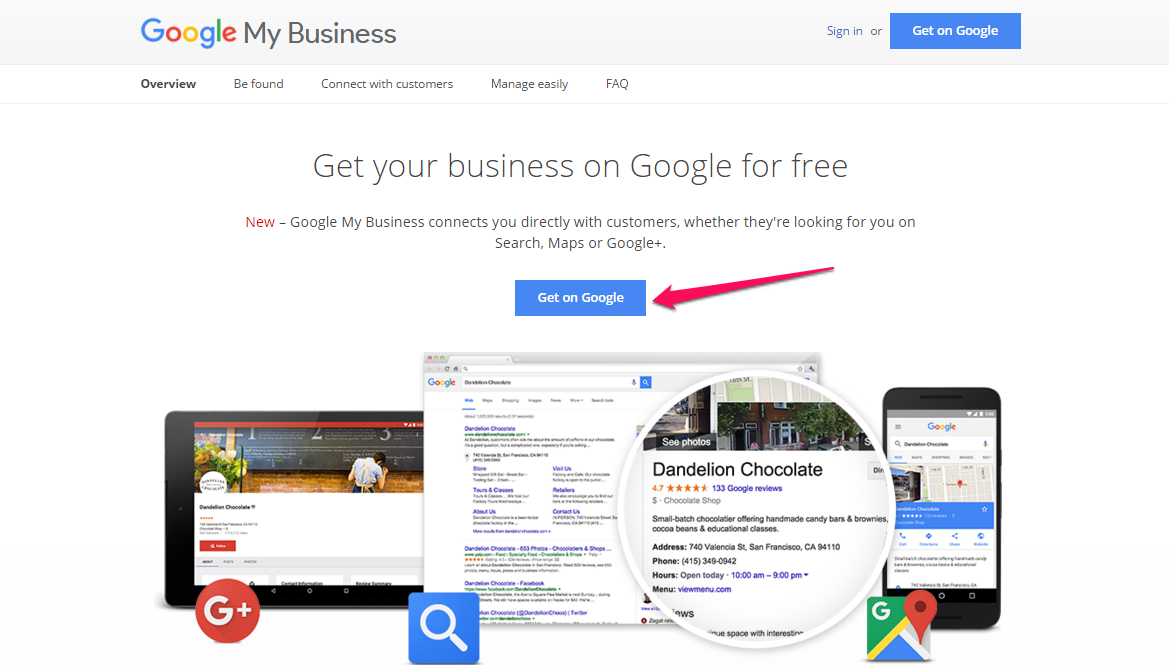 When you claim your listings on Google My Business, you enjoy these three benefits:
You show up in results
You give customers accurate information about your business and products
You build lasting relationships with your target audience members
Claiming your listing will often solve the problem of branded searches not returning your business website or Google+ pages.
When you claim your listings, Google will sync your business with the knowledge graph so that you can also help searchers learn more about your business.
 Audit the company website or blog for duplicate content
You'll be penalized for any duplicate content, right?
Wrong.
The only duplicate content pages that get penalized are spammy ones that provide a bad user experience.
I've been around the SEO world long enough to know that the duplicate content penalty, as it's envisioned by most marketers, doesn't exist.
But, don't just take my word for it. Google has stated as much. In the Google Search Console Help Center, you'll learn that Google's well aware of non-malicious duplicate content, such as:
Discussion forums that can generate both regular and stripped-down pages targeted at mobile devices
Store items shown or linked via multiple distinct URLs
Printer-only versions of web pages
That's duplicate content, but it's not the kind of duplicate content Google wants to get rid of.
When you have substantial blocks of content on your domain, you can simply tell Google spider which of the pages to index.
That's because the spider will face a dilemma as to which URL should appear in the search engine results pages (SERPs). AudienceBloom provides a clearer picture of how Google determines duplicate content in this infographic:
However, there's a catch: Google isn't interested in ranking all of the duplicate pages.
There's an easy fix, though. As long as you use canonicalization to specify which URL should be given priority in the organic listings, you'll be fine.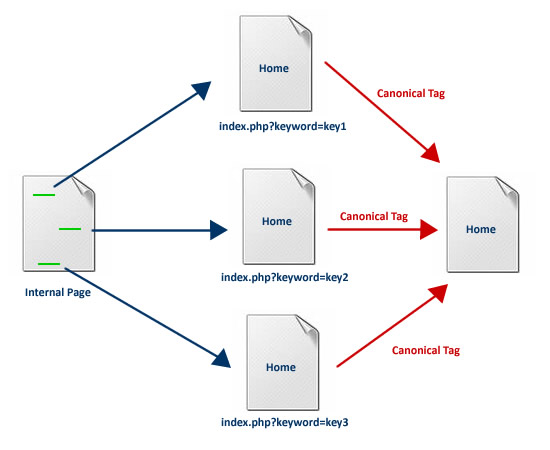 You can take it a step further and add the noindex meta tag, which blocks the search engine spiders from indexing your duplicate content altogether. That way, only one of the duplicate pages can be crawled, indexed and ranked in Google.
Still not convinced that duplicate pages aren't the problem you thought they were? Well, Google's head of search, Matt Cutts, said he wouldn't stress about it — unless it's spammy duplicate content.
In a recent video, Matt Cutts answered the question "How does required duplicate content (terms and conditions, etc.) affect search?"
According to Matt Cutts,
20 – 30% of all the content on the web is duplicate content.
That being the case, Google doesn't insist that every single page on your site or blog carry unique and fresh content.
He further said,
When Google finds duplicate content, it assumes that both pieces of content are the same and will eventually rank one of them higher, based on other essential algorithm ranking factors.
However, the fact that duplicate content may not affect your local SEO and search rankings doesn't mean you've got free reign to overdo it.
Deliberately duplicating content on your site just to induce better search performance usually results in a poor user experience. The user experience is hurt when a visitor sees substantially the same content repeated within a set of search results.
You've got to balance SEO with user experience if you want to reap the benefits of both.
Poor user experience can actually lead to a drop in search rankings and organic traffic, because Google follows its users.
If the users are happy with the search results that are unique and relevant to them, they'll stick around for more. This reduces the bounce rate of your site and increases on-site user engagement.
You can easily fish out duplicate content pages on your site/blog and edit them. The best and fastest way is to add noindex meta tags to the pages you want to hide from Google. Then tag the canonical URL, specifying the page you want Google to index.
To find these duplicate content pages on your site, follow these simple steps:
i). Go to SiteLiner.com. In the search box, type your site URL. Then click on the blue "Go" button: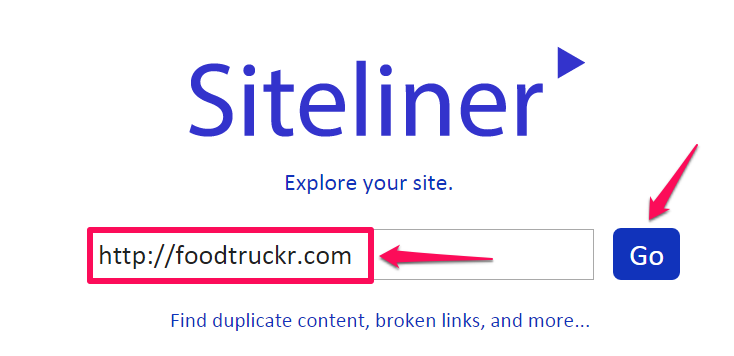 ii). Analyze the duplicate content.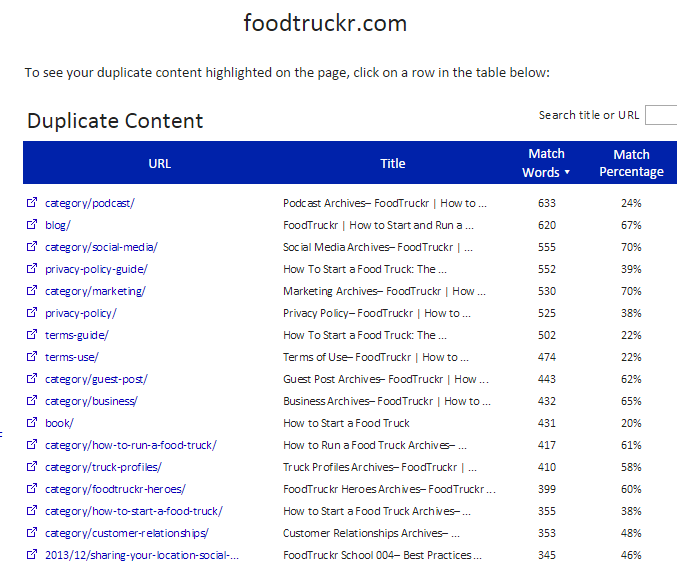 Step #5: Review the social networks you're active on
Social signals are powerful influencers as far as local SEO is concerned.
Social factors such as ratings, reviews and likes can aid other user-focused algorithm ranking factors. In fact, several studies have shown that social signals have both a direct and an indirect impact on local SEO and organic search rankings.
Direct impact comes from signals such as:
Number of people that like your brand on Facebook
Number of Facebook shares
Number of Twitter followers
Number of tweets mentioning your brand name or including a link to your website
Number of people that "have you in their circles" (Google+)
This chart from Lunametrics shows us the sources of social signals and their respective impact: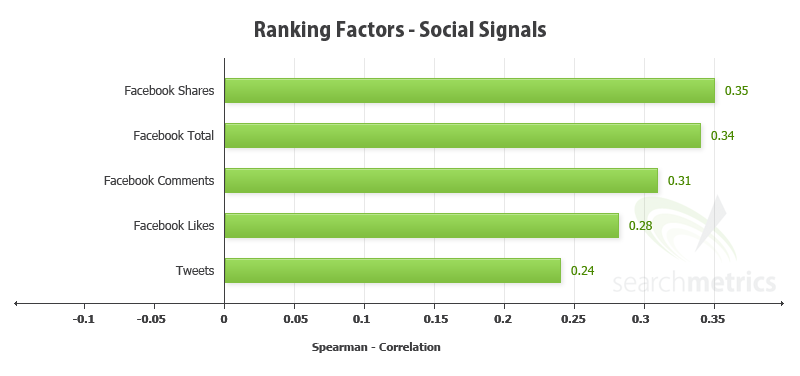 Indirect impact comes from social signals such as:
Increased inbound links and citations due to improved online visibility
Increased positive reviews (Google Local, Yelp, etc.) due to happier customers
Decreased bounce rate, higher time on site and more repeat visitors to your website
When it comes to determining your social influence, you need speed. When you find that your social influence is lagging (e.g., your Facebook page isn't showing up in the top 10 organic listings), you need to optimize it or rebuild it.
Let's conduct a quick business search in Google to determine which social media networks the business is on. We'll use Pat Flynn as an example.
When I search for "Pat Flynn," you quickly see his social influence on YouTube, Twitter, and Facebook. Links from these social media profiles will be juicy and influence organic search performance in the long run.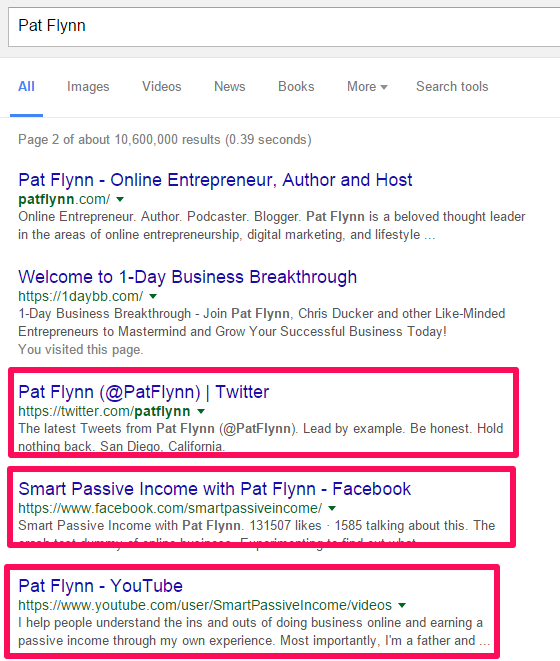 If you discover that some of your social media business pages are doing well (i.e., showing up in the search listings), and others aren't, you can either build new profile pages or update the existing ones.
As an example, the search below is for Splendido Toronto, a popular restaurant in Canada. On Google's page 2 results, you see only Splendido's Facebook page – no Twitter, LinkedIn, Instagram, etc.
That doesn't mean the restaurant doesn't have a SEO presence on those social networks. But, it appears that the profile pages need an update.
Of course, other factors could be at work, too. As you can see in the screenshot above, Splendido is now closed after 25 years in business. This could explain why only its Facebook business page is visible in organic searches.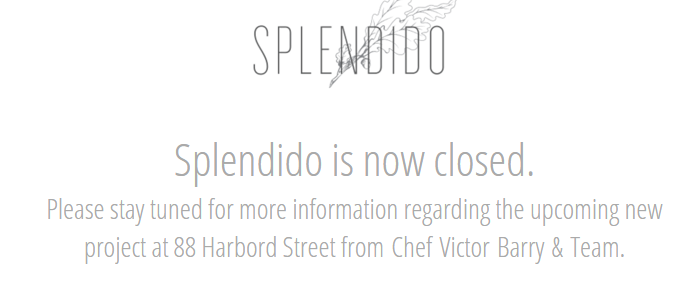 Being active on social media networks can boost your search engine optimization and help your business locally. It isn't that Google will look at the links you shared on Facebook and rank you highly. But, content that gets shared a lot on social media may be seen as more valuable content, says Eric Enge of Stone Temple Marketing.
Step #6: Brand citation check for link building opportunities
Brand marketing goes way beyond building links to improve your local SEO and search rankings. It's about making a positive difference and bringing satisfaction to customers.
According to Bop Design, "64% of people cite shared values as the main reason they have a relationship with a brand."
Earlier I talked about the indirect impact of social signals, which leads to increased citations due to brand awareness.
Brand citation is a scenario where another site mentions your website, business name or personal name without linking to your site or social profile.
An example of a brand citation in the screenshot below is "Jon Cooper." Even though I mentioned his name, I didn't link to his blog.
Why are brand citations and mentions important? These 4 reasons will explain why you should strive to get cited by other sites:
i). Social signal leverage: Brand mentions can be used to leverage social signals.
Though the links you acquire from social media are nofollow and consequently will not affect your local SEO and search rankings, you can piggyback on mentions, comments, etc. and reach out to those who cited your brand and request a dofollow link.
Since the evolution of search and social, brands are taking advantage of brand citations to help gain links that have SEO value.
Citations happen when your small business is being found. Conversely, you won't get brand citations when you're not creating value for other people.
It starts with the goal you've set for your business. Then, it extends into the content you create. The more value you deliver, the more visible your brand will be.
When I write a new article, I usually mention influential social media professionals, such as Brian Dean, Rand Fishkin and several others. I also mention several blogs and link to them.
You've got to understand that I don't cite these experts because they're my friends. On the contrary, I've never met some of them. I mention them because their knowledge, content and strategies are insanely helpful.
Brand citations or implied links are the future of link building. You want to check to see how many implied links your business name or brand is getting.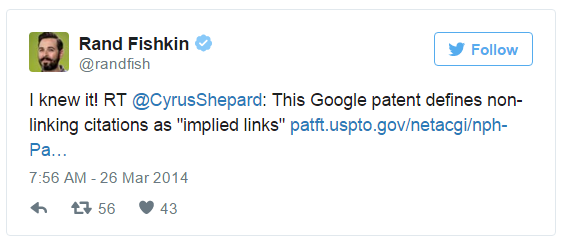 ii). Effective measurement of brand authority: Brand citation helps Google to determine the true authority of a business, brand or website.
The traditional method of building links is no longer feasible to Google, due to blackhat SEO manipulations. But, when a brand is mentioned across authority sites, it's a signal that people like and trust it.
iii). Reduces the risk of link manipulations: It's much easier to control branded implied links than anchor texts. Citations on industry blogs or pages are usually relevant and contextually woven into the content.
As long as the website is in context with the referring content, the link will be search-friendly.
iv). Brand citation is important for local SEO: If you or your target clients or customers are centered in a particular geographic area, local SEO is ideal for you.
Citations can be an important local SEO factor, because of the role they play in helping local businesses find their place in the social and search sphere. This in turn helps customers to find a particular business on their mobile devices.
And, we all know that mobile searches are highly targeted. According to G-Spot.io, 88% of mobile searchers call or visit a local business they've found via mobile search within 24 hours.
Google actually uses the NAP (name, address and phone number) to determine the location of a particular business on Google Maps.
This helps the customers find exactly what they're looking for when they conduct local searches.
You can easily use the Moz tool to find a particular local business, as well as opportunities to improve local search engine optimization and a particular listing.
Step #7: Conduct a backlink/penalty analysis
User experience is vital, but links are still the most important algorithm ranking factor. Without the right links pointing to your web pages, you may not be able to improve your local SEO and search performance (e.g., traffic and rankings).
What's the health of your current backlinks? It's not a lot of fun trying to clean up hundreds of spammy links. So, it's wise to analyze your backlinks to determine whether or not you stand a chance of being penalized.
Moz's Open Site Explorer shows you the spam score of your backlinks. This makes it easy for you to determine the true nature of your links and to decide whether to nofollow some links.
The spam score of the site above is 3. According to Open Site Explorer, 4% of sites with a spam score of 3 were penalized by Google.
You want to measure the ratio of the backlinks to the referring domains. For NeilPatel.com, the number of backlinks is huge, but the referring domains number less than 600. This may not be good for SEO – although the links appear natural and not spammy.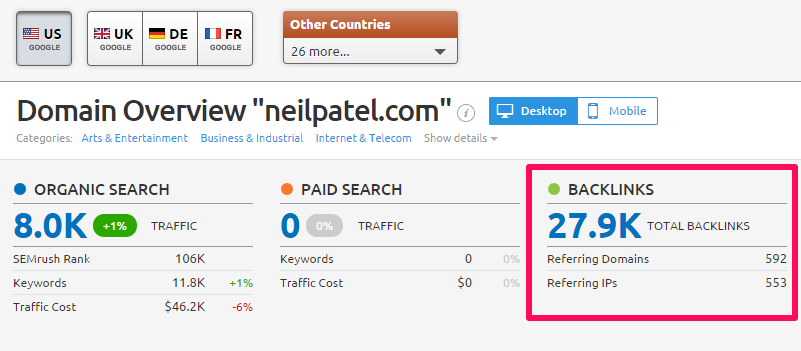 Last, but not least, do the anchor texts look natural? If you have too many commercial keywords in your anchor texts, this may be a sign that your anchor texts are over-optimized, which can also lead to Google penalties.

Apart from the highlighted anchor texts in the screenshot above (which looks spammy), other anchor texts are branded and natural.
I don't think that Google will penalize the site because of a single spammy anchor link.
Don't lose sight of the purpose behind your local SEO audit. It's to help you uncover errors on your site (both on-page and off-page) so that you can re-optimize and drive more organic traffic to your blog or pages.
Conclusion
Search engine optimization builds things. It builds blogs, content and systems. It also builds strong foundations for sites so that local consumers can find relevant and useful information when they conduct a Google search.
Make no mistake: local SEO has enormous potential to help you drive more targeted customers to your business.
While you were reading this article, I hope you didn't hear that little fearful voice inside you protesting that "There's no way to do a local SEO audit in 45 minutes – it's too complicated."
Here's my candid advice to you: Tune out all of the negative noise in your head and just do it. Building a thriving small business isn't easy. If it were easy, then we wouldn't see so many businesses fail in their first 12 months.
What I've just shared with you are simple things that you can do to make your local business more visible in search, by improving your local SEO.
No matter when you started your site or blog, these tips will work for you. And, if you're diligent, you can complete this local SEO audit in 45 minutes or less.
Have you benefited from local SEO? What tactics and strategies have you used to drive more local leads and customers to your small business?